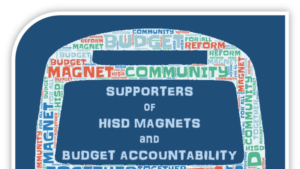 The Houston Independent School District is facing a budget shortfall for the upcoming 2017-2018 school year of more than $200 million. As a result, HISD is proposing significant changes to balance the budget that could potentially impact all district schools, including Herod Elementary.
The Herod community believes a performance audit is critical to properly inform HISD leadership of the potential impact of their decisions.
This audit take place before any changes are made and would serve to review HISD's finances and expenses, including staffing, transportation, program effectiveness and the efficiency of how assets are used.
How you can take action:
Sign the petition requesting HISD conduct a performance audit by clicking here.
Attend the District V Town Hall Meeting on Thursday, Feb 22nd at 7pm at Bellaire High School Auditorium (5100 Maple, Bellaire 77401).
The last time HISD conducted such a review was in the 1990s.